Special Trunking for RAF Museum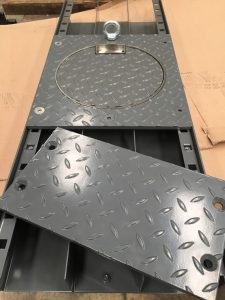 The RAF Museum in Hendon, London, has benefitted from 300 metres of our special trunking from Screeduct.  Working with the electrical contractors Bower Fuller Ltd Screeduct designed a bespoke trunking solution to suit the requirements of the project. The trunking was manufactured from 3mm thick pre-galvanised steel, and some mild steel chequer plate trunking.
The client specified the trunking to be 360mm wide x 100mm deep, with a detachable divider in case it was required.For the top of the trunking, 10mm chequer plate mild steel was used. An epoxy powder coating in RAF grey meant the trunking blended perfectly with the look of the museum.
For total flexibility, we made sure that the lids to the trunking we're all completely interchangeable. We also manufactured 26 lids to 360mm X 400mm with a round cut out for the socket boxes. The trunking will give the client total flexibility for the socket outlets in any part of the trunking run.
For more information about this project please visit Screeduct.co.uk