Making a Statement with Architectural Metalwork.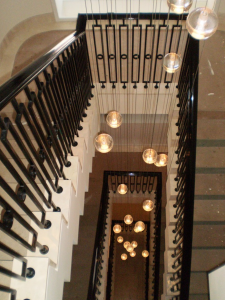 Architects and designers are always looking for ways to make a statement. A simple but effective way to do this is with Architectural Metalwork.
Incorporating metalwork into a design can be simple. Such as adding a new statement Handrail to a current staircase. There are currently various design trends that incorporate architectural metalwork into both interior and exterior features. For inspiration, researching trends like these can help:
Art Deco
Industrial chic
Scandinavian
Minimalism
Features that can incorporate these trends in your design can include:
Staircases
An aesthetically pleasing way to make a statement with architectural metalwork is with steel staircases. Bespoke staircases can be made to suit individual requirements both interior and exterior. A staircase can be the centre of a home or building. Designed in a variety of materials and finishes a statement could easily be achieved.
Handrails
Handrails are the perfect way compliment a staircase. This simple but effective piece of architectural metalwork can enhance the aesthetic of a any staircase. They can come in a variety of finishes and materials to suit you. Finishes could include:
Painted
Galvanised
Powder coated
Anodised
Decorative polish.
Balustrades
If you're looking for a more dramatic way to compliment a staircase balustrades could be used. From traditional vertical bar type balustrades to more modern bespoke laser cut designs, balustrades can enhance any architectural design.
Spiral Staircases
When access is restricted a spiral staircase can be the perfect solution. Combining functionality with beauty. Distinctive to the average staircase a spiral staircase is an attractive design feature to make a statement. Whether its an interior or exterior feature. Spiral staircases can be available in a range of materials, balustrades & tread combinations, to meet the demands of any design.
How Can We Help?
At Steelway, all of our architectural metalwork is designed to:
Comply with planning consent and building regulations
All relevant British standards & loadings
Site surveys and technical visits can also be carried out if required as well as the complete design, fabrication and installation service.
Due to our vast experience in the construction industry, we can offer a wide range of products in a variety of materials. Material options include stainless steel and mild steel.
Our range of Architectural Metalwork includes:
Steel Staircases
Steel Handrails
Steel Balustrades
Spiral Staircases.
For more information on our product ranges, click here.