How to Stain Wooden Furniture
While wood in its natural form is breathtakingly beautiful, it can be hard to find a piece that matches perfectly with the tones of your home. Most people tend to add stain finishes in order for them to achieve a consistent color scheme throughout. Finding the right stain for your piece of wood can be difficult and people often get this wrong – this is our ultimate guide to achieving perfection.
Preparation
It can be incredibly difficult to predict how a stain will perform due to each piece of wood having different properties, grains and tones. We recommend testing the stain on an inconspicuous spot to ensure it gives the look that you desire.
Another step you should take is ensuring your chosen stain and conditioners are compatible with each other. It's simple, if you choose an oil-based stain, use an oil-based conditioner. If you use a water-based stain, use a water-based conditioner. This will help each layer create a smooth finish on the wood.
Sanding
Rub the sandpaper against the wood going in the direction of the grains. Opt for a 120-grit sandpaper to help get rid of any imperfections in the wood. Once the wood is looking smooth, switch to a 220-grit sandpaper to create an even surface of the wood. Rub the entire surface before removing the extra sawdust.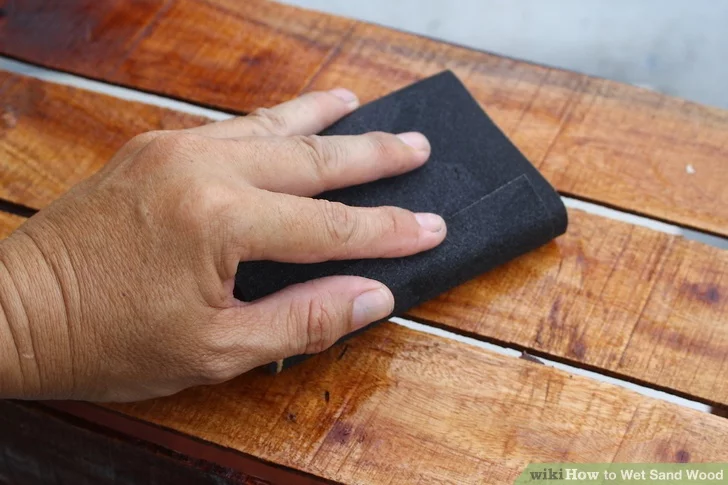 Condition
In the same direction of the grain, brush a thin layer of conditioner on the surface with either a bristle brush, rag or sponge. Make sure the wood is clean and dry before using a conditioner. Leave the conditioner to absorb for 10-15 minutes before wiping off the excess. If your conditioner says a different recommended time on the instructions, stick to this.
Applying the Stain 
Once the conditioner is dry, stir the can of stain with a utensil and dip your rag or brush into the stain and spread it onto the wood. Apply it in the same direction as the wood grains and slowly work your way across the piece in small sections. Make sure this is done in the first 2 hours after conditioning and that you wear gloves to protect your hands from the stain.
Once a thin and even layer has been applied, let the stain dry for 4 hours before applying any additional coats. If you decide you want it darker:
Apply another coat
Wait 5-15 minutes
Wipe off with a clean cloth
Finishing Coat 
Although not necessary, it's definitely recommended to seal your wood. This will help add durability and help it to last much longer. Protective finishes can have a range of sheens from matte to high gloss.
After using a sealant, it's not easy to add additional layers of stain so be sure you have the desired color you are after.
At Finework, our wood stain finishes are made from the highest quality lacquers and give your woods surface an excellent finish whilst also protecting it for years to come. To find out more about our wood stain finishes, click here
Tagged:
wood staining